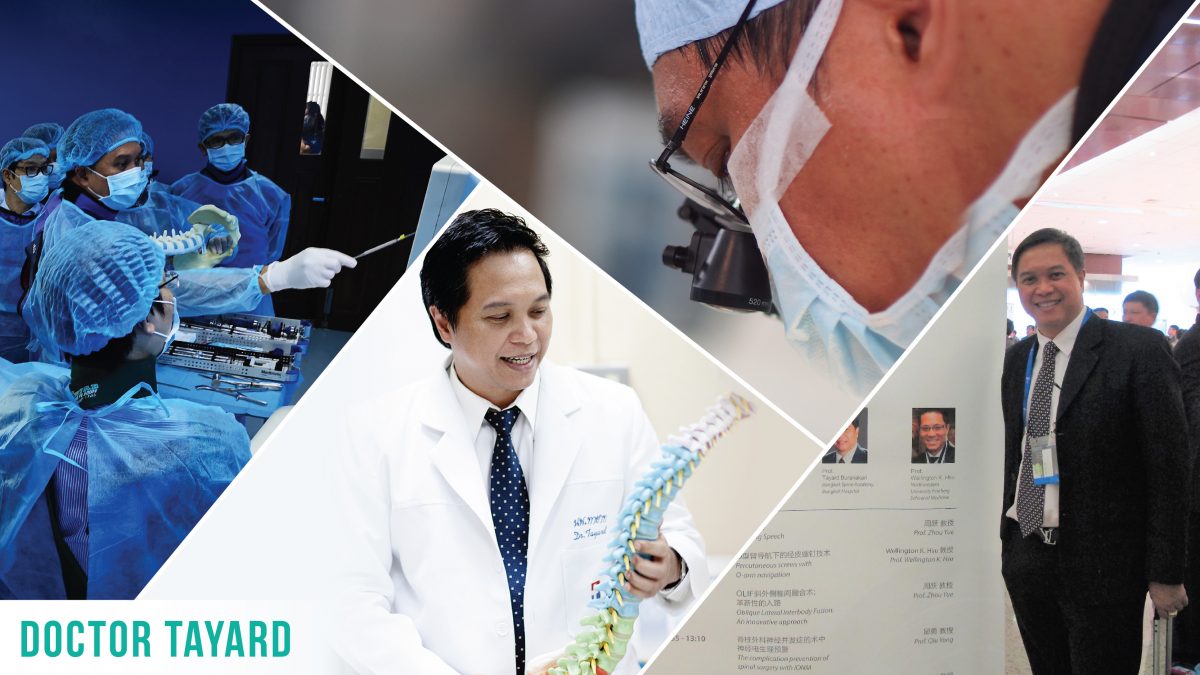 In April 2019 Spine Connection is proud to expand our patient offering with the inclusion of one of Asia-Pacific's most revered spine surgeons, Dr. Tayard Buranakarl.
Dr. Tayard has featured prominently in the Thai media, and has instructed hundreds of spine surgeons all over the world. We have put together this introductory article as a small snapshot of his expertise, achievements and accomplishments.
As Director of the Bangkok Spine Academy and Vice-President of the Thai Spine Society, Dr. Tayard brings his skill and experience to our team so we can better assist local and overseas patients looking for faster, more affordable, and superior solutions.
His area of speciality relevant to our patients is multi-level cervical interventions, scoliosis surgery, and reconstructive lumbar surgeries using the very latest Minimally Invasive Surgery (MIS) techniques. This includes Oblique Lateral Interbody Fusion (OLIF), Transforaminal Lumbar Interbody Fusion (TLIF) and Direct Lateral Interbody Fusion (DLIF). Performing these surgeries using a minimally invasive approach (unlike open surgery) allows patients to benefit from less blood loss, preserving muscle and connective tissue, and ultimately a faster recovery time.
Dr. Tayard is the reference surgeon for Medtronic (Largest Global Spine Technology Company) in ASEAN group of countries, as well as assisting with Medtronic surgeon training in greater Asia-Pacific region.
Special Accomplishments
•Bangkok Spine Academy (Director and Co-Founder)
•Thai Spine Society (Vice President, Current)
•Medtronic Surgeon Instructor (Asia-Pacific, Current)
•First Direct Lateral Interbody Fusion (DLIF) in Thailand
•First SI Joint Fusion in Thailand
•First OLIF51 in ASEAN Group of Countries
•Medtronic Key Opinion Leader for OLIF51 (1st in Thailand)
•Spine Fellowship UCLA School of Medicine (California, 2000)

Giving Back to the International Spine Community

Ever since he completed his first fellowship at UCLA Medical School in California, Dr. Tayard has supported collaboration between the greater international spine community. For the last decade he has been invited overseas to share his experience as well as instruct and mentor fellow surgeons.

Dr. Tayard teaching SI Joint Fusion at Medtonic's 2nd SE ASIA Summit (2018)

Presenting to the Malaysian Orthopaedic Association on their 50th Anniversary (2018)

Presentation to North American Spine Society (NASS) as Thailand's representative for OLIF & ALIF Surgeries (2017)

Presenting at 9th International Congress of the Chinese Orthopaedic Association (2014)

Presenting and teaching a Medtronic OLIF Workshop for South Korean Surgeons (2014)

Presenting and teaching an OLIF Workshop for Australian Surgeons at Sydney's Macquarie University (2014)

Not only an accomplished and respected surgeon, Dr. Tayard is known for his friendly personality and caring bedside manner

Patients Looking for Affordable Surgery without Compromise

Spine Connection's new partnership with Dr. Tayard, in combination with Samitivej Hospital Chinatown, allows for international patients who are price-conscious to still receive the very latest surgery techniques.

Samitivej Chinatown Hospital is a fully equipped boutique luxury hospital, located in the colourful Chinatown part of Bangkok. It has an Intensive Care Unit, Emergency Response, all means of diagnostics in house (MRI, CT, X-Ray imaging) and intensive rehabilitation centre, as well as gourmet cafeteria, Starbucks and other shops.

As part of the largest hospital group in the ASEAN area (Bangkok Dusit Medical Services), this hospital benefits from the excellence of its flagship 'big brother' Samitivej hospitals.

Patients can expect to recover in a luxurious environment, with personalised and caring attention from hospital staff, in addition to receiving surgery from one of the most accomplished and respected surgeons in the entire region.