Steve is a healthy and active 64-year-old from Florida in the USA. We caught up with him for an interview just eight days after his OLIF spine surgery in Thailand.
Steve contacted Spine Connection in mid-2019 looking for an extra opinion for his painful lower back. He had tried all means of physiotherapy, injections and continually 'dialed down' his daily activities, but his symptoms progressively increased.
He was initially interested in a motion-preserving surgery in Germany, however due to his advanced degeneration, scoliosis and vertebral slippage, he was advised for a reconstructive fusion to re-align his spine and deliver the best result.
He began researching various types of Lumbar fusion including a style of minimally invasive fusion called Oblique Lateral Interbody Fusion (OLIF). This technique delivers accuracy and a fast-track recovery because no muscles or supportive structures need to be cut or interfered with during the surgery. One of our top Thailand Spine Surgeons Dr. Tayard Buranakarl is also an instructor surgeon for this exact procedure in the Asia-Pacific Region, having performed his first OLIF in 2012.
Jake Lemon from Spine Connection organised a remote evaluation of Steve's case, and within 6 weeks he was headed to Thailand for his L2-L5 OLIF with Dr. Tayard at our luxurious and private Samitivej Chinatown Hospital. Dr. Tayard used the highest quality technology from Medtronic in the USA, including intervertebral cages, stabilizing screws and Infuse BMP-2 (bone growth matrix) to ensure accuracy and longevity from the surgery.
Steve's L2-L5 OLIF Before & After X-Rays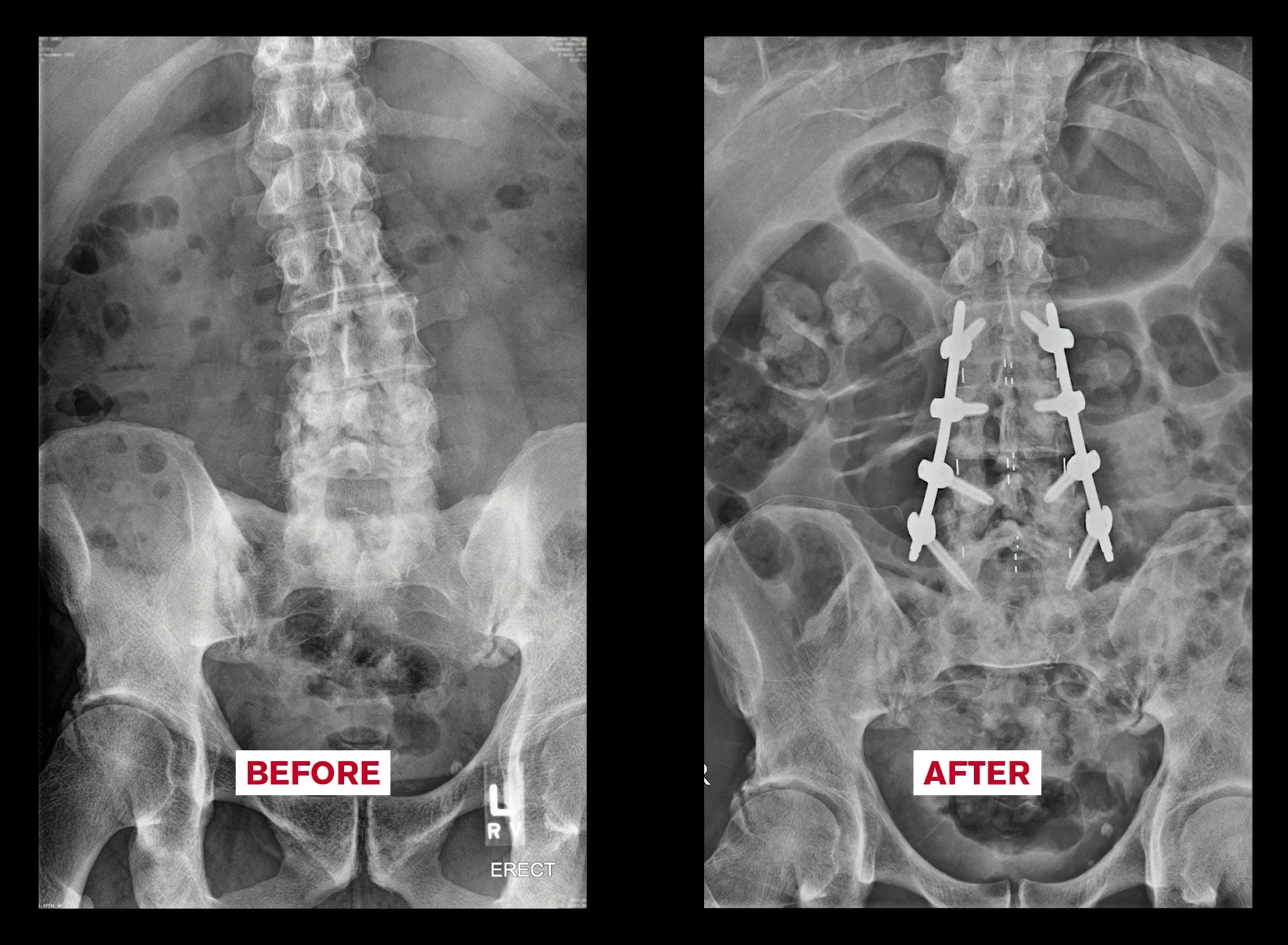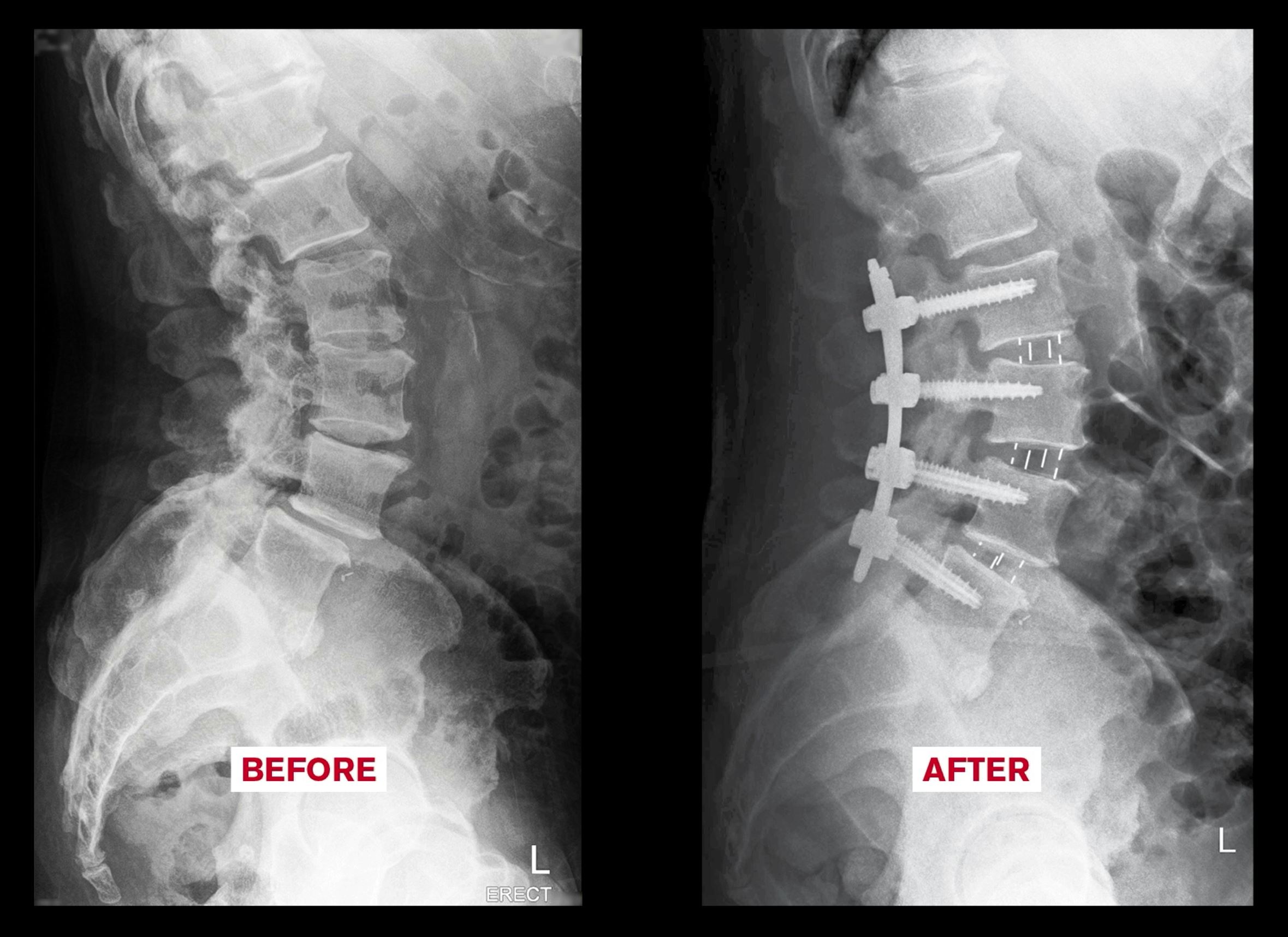 The above X-Rays show Dr. Tayard and his team delivered a textbook perfect reconstruction of Steve's spine.
After his 6 hour surgery, Steve only required 4 days in a private hospital room, and was assisted through his rehabilitation by spine specialist Dr. Laura, also a valuable member of Dr. Tayard's team. After hospital discharge he stayed with our accommodation partner Movenpick BDMS Wellness Resort, a true recovery oasis in the very heart of Bangkok metropolis. Steve had daily trips to the hospital for wound checking and continued rehabilitation while awaiting his final check-up.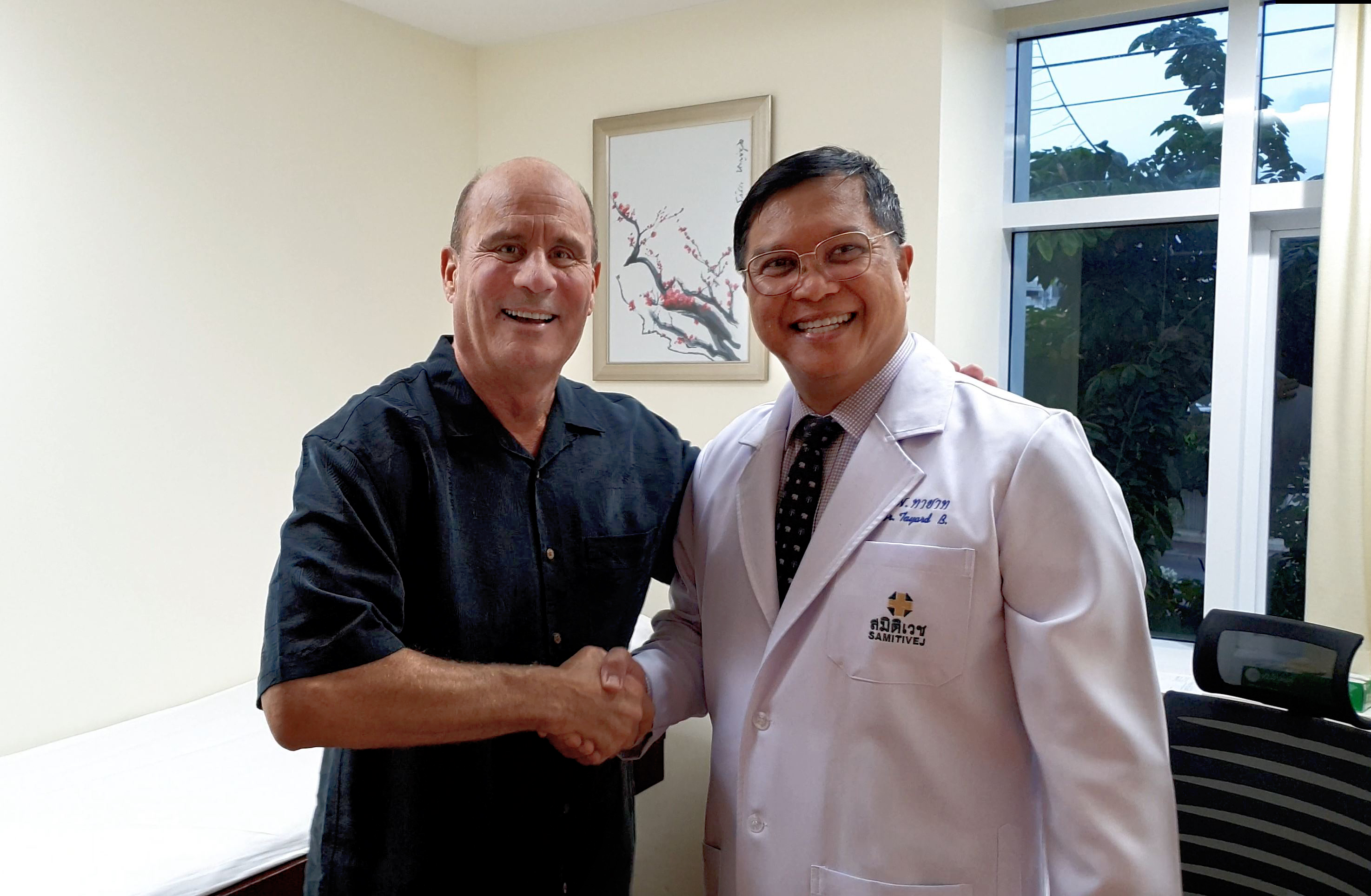 A picture is worth a thousand words. Dr. Tayard gave Steve final clearance to fly home to his family in the USA.
Why do patients consider spine surgery overseas?
Steve's unique situation met all 3 of our consideration set criteria and reasons why patients pursue elective surgery overseas. This included:
1. Waiting Times: He would have to wait 3-6+ months to receive a comparable surgery in the USA, even paying in a private hospital environment. He didn't want to wait in pain while his condition deteriorated. We found him a solution within 4 weeks.
2. Surgery Cost: He received the highest quality surgery, using premium USA Medtronic technology, in a luxury hospital and hotel recovery environment, for 50-60% less than the cost in the USA. We negotiated a fixed price package to avoid surprise costs!
3. Specialty Procedures: He received the very latest minimally invasive OLIF Lumbar Fusion technique, from a renowned surgeon instructor, using a bone growth compound with near 100% fusion rate, while most of his surgery options at home were a traditional 'open' fusion with longer recovery time.
Steve did all the research, asked the questions, and truly advocated for his own healthcare. Our Spine Connection team thoroughly enjoyed facilitating his entire journey from A-Z, and enabling him to return to a good quality of life. We wish him the very best into the future.
HELPFUL INFO: Patients considering spine surgery in Thailand can view Dr. Tayard Buranakarl's full profile at this link.