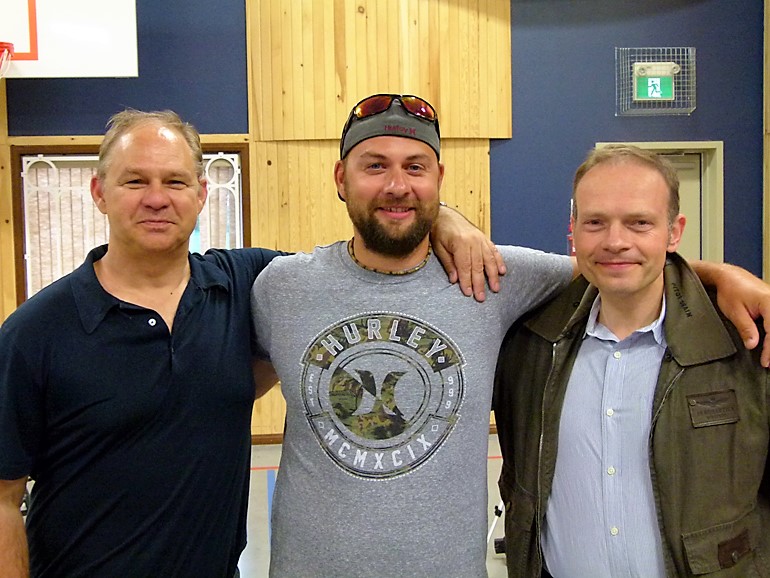 In Mid-2015 our German Spine Specialists hosted the World's Largest Reunion of Disc Replacement Patients, with Sixty-One of their patients travelling to take part in the Canada event.
Senior Neurosurgeons Dr. Thomas Bierstedt & Dr. Bernd Illerhaus believe in the closest relationship between their team and patients.
At the reunion the surgeons shared their experience and preference to retain healthy mobility in the spine, using the latest generation Artificial Disc Replacement (ADR) and Total Facet Joint Replacement devices in thousands of cases over the last 15+ years.
Many of these patients had been recommended spinal fusion as the 'Gold Standard' to fix their lower back or neck condition, and this idea of restricting movement and elevating the chance of "adjacent segment disease" had them looking for other options.

Why were so many patients travelling across to Germany for Spine Surgery?
Mr. Malte Petersen from ONZ Germany says they treat a lot of patients from Canada and the United States and says there is definitely a difference between the two countries.

American patients have been treated with narcotics in their home country, and often come with multiple minimally invasive surgeries behind them that have only produced a Band-Aid solution. Many American patients have been denied insurance because of pre-existing conditions and come having already spent thousands of dollars from their hospital stays.

Petersen says by contrast, Canadian patients are frustrated by the long waiting lists back home and the incapability of seeing a specialist or having diagnostics performed in due time.

"Ever since we had patients from North America we thought this would maybe be the highest level of care in the world," notes Petersen. "But the reality has shown us a different picture."

Senior Spine Surgeons Dr. Thomas Bierstedt and Dr. Bernd Illerhaus, along with Mr. Malte Petersen and the Support Team from Germany listening to patient stories.




Ryan Dueck explaining his personal experience having disc replacement in his neck

The convention room was packed for the Canada patient reunion, with family and friends also in attendance.

(Left to right) Mr. Malte Petersen, Dr. Thomas Bierstedt, Dr. Bernd Illerhaus and their rehab team from Medicos Aufschalke listening to patient stories

Dr. Bernd Illerhaus (Spine Surgeon) talking with reunion attendees.

Unprecedented: Surgeons bringing so many patients together at the same time

The gathering, according to Petersen sets a new record for the largest reunion ever held for spine surgery patients. And Petersen understands how unique it is that a medical team would be willing to put itself in a vulnerable position by having previous patients gather together in the same room.

"Usually hospitals and doctors fear their relation to the patients, especially a personal relation," notes Petersen. "We have had so many people coming over who trusted their lives and they trusted us through surgery, delicate surgery on their spine. We feel honoured that we were given the responsibility and we wanted to pay back by getting everybody together and show up here and give people a chance to mingle among each other but also to speak to us again."

Petersen says transparency in medicine is missing. He says surgeons don't often openly present their results and patients seldom are given the chance to speak to other patients who went through similar experiences.

"Transparency is something that we need in medicine, we need a relation between patients and surgeons," notes Petersen. "We need trust, we need confidence in their decision, and also we have to maybe give a chance to eliminate those who do not offer the best option for their patients."

On the night, various patients had the opportunity to share their personal stories

Ryan Dueck from Canada explains why he chose Germany for spine surgery

Ryan Dueck broke his neck playing football in February, 2009. He said he lived with unbearable pain and was slowly losing the ability to hold up his head. No option was available for him in Canada, so he went to Germany for spine surgery in 2013, being M6-C Disc Replacement in his neck. He calls the surgery with Dr. Thomas Bierstedt a life-saving miracle, and says not a day has gone by where he regretted his decision. Dueck said that meeting sixty other former patients was one of his best life experiences, and has founded a support group for other Canadians facing day to day life with traumatic cervical spine damage.

A Full Spectrum of Spine Solutions

"Our team offers a full spectrum of spine solutions including all means of minimally invasive decompression and fusion techniques and so we are unbiased. When it comes to motion-preservation surgeries, understanding the limitations of your technologies and patient selection is vital. With thousands of cases, our surgical team is well past their learning curve and are experienced to make these decisions." Peterson added.

Some patients are worried that they will never be able to enjoy an active lifestyle again after Artificial Disc Replacement surgery, however this isn't the case. "There are almost no restrictions as far as the spinal implants are concerned. We have patients who have returned back to very active lifestyles: farming, horseback riding, competitive sports and pilots to name a few." said Petersen. He continued, "The idea of fusion is to eliminate the entire level from functioning: 2 vertebrae and intervertebral motion. Principally, motion preserving solutions are superior. The chances of complete pain alleviation and a non-restricted, fully active lifestyle is significantly higher than with fusion."

The new Spine Connection platform extends the reach of our German Spine Specialists to new countries around the world, assisting patients with a second (or third) opinion, and providing a Private Medical Travel Concierge service for spine patients who decide upon life changing surgery in Germany.

2019 New Zealand Patient Reunion
We also enjoy coordinating ongoing Patient Reunions in other countries and you are invited to read about our 2019 Patient Reunion in New Zealand with Dr. Thomas Bierstedt.

*Note: Original Article featured in Steinbach Online Newspaper, Canada.